Reuters editor Leah Douglas reported yesterday that "Two senators join farmer groups and other legislators call on the United States Department of Agriculture allow farmers to plant conserved acres this spring in response to the Russian invasion of Ukraine.
Republican Senators Marco Rubio of Florida and Cynthia Lummis of Wyoming sent a letter to Agriculture Secretary Tom Vilsack on March 31 calling on the USDA to allow farmers to plant acres listed in the Conservation Reserve Program (CRP) without penalty.
"Senator John Boozmanan Arkansas Republican and high-ranking member of the Senate Agriculture Committee, also asked the USDA in March to allow the planting of CRP," the Reuters article said.
Douglas noted that "the European Union has already taken steps to allow farmers to plant on fallow land in response to the war in Ukraine and distributes aid to help them do so.
Also yesterday, Bloomberg News reported that "Russia increased wheat shipments by about 60% in March, although this is the first month of its invasion of Ukraine.
"The country exported about 1.7 million tonnes last month, according to consultant ProZerno. It compares with 1.1 million tonnes sold in March 2021, although those sales were snuffed out by changes to government taxes on grain exports. The most recent volume is still only about half of March 2020."
The Bloomberg article stated that "Russia and Ukraine together account for about a quarter of the world's grain trade. Exports of Russia slowed down immediately after its February invasion, but has since rebounded, according to analysts and data providers. Sales stay lukewarm out of Ukraineand this keeps world prices of crops such as wheat and sunflower oil high and raise growing concerns on access to food in the main importing regions such as Middle East and North Africa."
For an additional perspective on Africa, Abdi Latif Dahir reported on the front page of today's New York Times that, "Across East Africa, below-average rainfall has created some of the driest conditions in four decades, according to the United Nations, leaving more than 13 million people facing severe starvation. Seasonal harvests are at their lowest level in decades, malnourished children are filling hospitals and many families are traveling long distances for help.
"The devastating drought has blanketed most of Somalia, leaving nearly a third of the population starving. In the neighbor Kenyathe drought deprived more than three million people of food and killed more than 1.5 million head of cattle.
"And in Ethiopiawhere a civil war has hampered the delivery of aid in the northern Tigray region, food insecurity is more widespread than at any other time in the last six years. The first one food aid to Tigray in three months has arrived Friday.
Today, the war in Ukraine is further aggravating the crisis by increasing the price of grain, fuel and fertilizers.
Today's article explains that "Russia and Ukraine are among the region's main suppliers of agricultural products such as wheat, soybeans and barley. At least 14 African countries import half of their wheat from Russia and Ukraineaccording to the Food and Agriculture Organization of the United Nations. Eritrea depends entirely on them for its wheat imports.
Dahir noted that "the war in Ukraine, now in its second month, is expected to cause further outbreaks of the cost of food in the area. The conflict, depending on its duration, could reduce "quantity and quality" of staple foods like wheatsaid Sean Granville-Ross, regional director for Africa for Mercy Corps, a nongovernmental organization.
And Bloomberg writers Katie Linsell, Megan Durisin and Irina Anghel reported yesterday that "Russia's invasion of Ukraine has disrupted the supply of almost half of the world's sunflower oil exportsforcing companies to turn to less desirable alternatives such as palm oil in products ranging from potato chips to cookies.
"Thousands of items, including ready meals and even wrapping paper, use sunflower oil. The prices are surge and the ingredient will only become very rare starting in the summer, as Ukrainian farmers may find it difficult to grow and export the crop.
Meanwhile, Bloomberg writers Allison Nicole Smith, Elizabeth Elkin and Sybilla Gross reported yesterday that "The prices of fertilizercrucial for the growth of most crops, had already grown worldwide before the invasion amid supply difficulties and production problems. Now the war has brought new problems. Russia, a major supplier of all major types of crop nutrients, urged domestic fertilizer producers to cut exports in March, stoking fears of agricultural input shortages essential for producers. Russia's move adds uncertainty to the global market as farmers in Brazil – the the largest importer of fertilizers in the world – are already struggling to get nutrients for crops.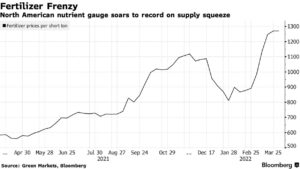 Also on the issue of fertilizers, Reuters writer Duncan Miriri reported yesterday that, "Kenya spent 5.73 billion shillings ($50 million) to purchase 114,000 tonnes of fertilizers which he will sell at subsidized prices to protect farmers from rising costs due to rising prices on world markets, said its Minister of Agriculture.
And Reuters writers Dominique Patton and Hallie Gu reported yesterday that "COVID-19 curbs in China are disrupt fertilizer supply in the country's northeast breadbasket just a month away from spring planting, threatening this year's corn and soybean crops if not resolved quickly.
"Despite Beijing's efforts to cool prices, China's Wholesale Fertilizer Index (CFCI) is 40% more than a year ago", said the Reuters article.